Le Pouce mountain, located in Moka, offers some very good views over the North West of the island towards the capital Port Louis, and on a clear day, the coastline of the North and East of the island can be seen.
It is an easily accessible climb in the centre of the island, and relatively easy in ascent.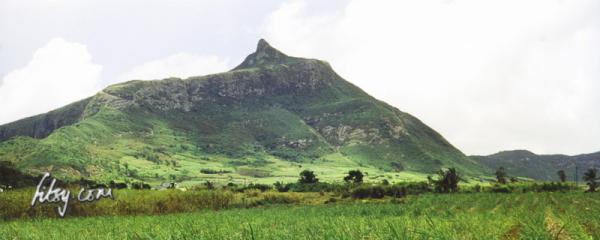 Location
The starting point of the route is in Petit Verger near the village of Saint Pierre. The location is served by buses and is easily accessible using buses going to and from Port Louis, or from other locations by changing buses at Saint Pierre. There is an alternate route starting from Port Louis, but the difference in altitude from that starting point is greater, making it more physically demanding and a longer climb.

If you are using a car, park the vehicle on the tarred road just before the bridge at the junction a few metres away from the main road, or continue to the end of the road where there are a few more spaces to leave your car.

The hike to the summit of Le Pouce mountain is relatively popular and attracts a lot of people, especially at weekends and public holidays. There have been reports in the past of petty theft from vehicles parked in the area. Do not leave valuables in view inside your vehicle.
Route Description
The path starts at the tarred road off the main road from Petit Verger to Saint Pierre. Follow the road over the bridge and through the cane fields to the end where it will end into a grassy track.
Follow the path which is generally well used, and continues and enters the undergrowth of the mountain and the climb starts.
You will eventually emerge out of the tall trees and the path takes a Z shape across bare rock on the eastern side of the mountain, giving you views over Petit Verger.
Continue along the path and you will come to what seems a flat area on the mountain and the path seems at crossroads. If you follow the track to the left, it will eventually take you to the southern part of Port Louis.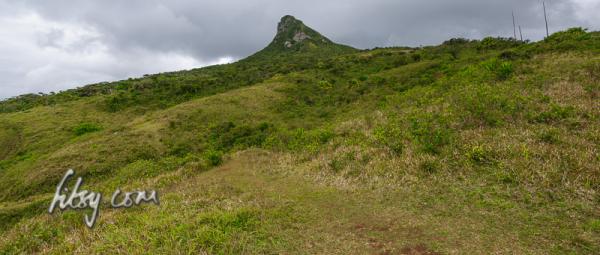 The path to the summit continues to the right, aiming for the right of the summit. There is also an alternative route (not on the GPS track) to the base of the summit which passes along the ridge to the south of the mountain. You may want to explore this route on your way back down.
You will reach a flat grassy area around the base of the summit where you can stop to enjoy the views towards the centre of the Island.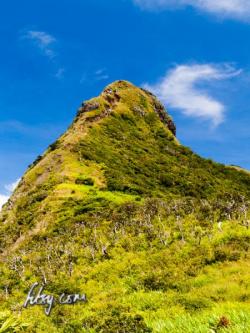 The path continues towards the summit, through some tall undergrowth followed by some steep rock which will bring you to the summit.