"The appearance of some [mountains] have, indeed, conjured up in the minds of some viewers a strange assortment of embroidered phrases and phantasies about their supposed origins and their imaginary sculptors. There are many, of course, which challenge man to climb and tempt him to rest awhile on their wind-swept summits."
L. F. Edgerley. Preface to "Mountains of Mauritius A Climber's Guide. Robert V.R.Marsh" c. 1975
So, if you're heading to Mauritius or have been there previously, those little peaks dotted around the island have probably caught your attention.
But knowing where to start, or even trying to find information can be a frustrating experience, but thanks to the modern day GPS - this is now a lot easier.
Anyone who has lived for long enough in Mauritius can testify to the difficulties one can encounter trying to find out information, irrespective of whether it relates to a Mountain peak or otherwise. Knowledge of mountain routes is generally becoming rarer, as locals no longer need to venture into the woods to gather firewood as they did a few decades ago.
The only comprehensive source of information was a book written in the 70's by Robert Marsh, entitled "Mountains of Mauritius, A Climber's Guide" with descriptions and hand drawn maps to the main peaks of the island. Fast forward to the 21st century and the book is near impossible to find, the maps and descriptions are outdated and even misleading in some places, but gives a few hints as to where to start looking for traces of a path leading up a mountain.
So save yourself the trouble of trying to wonder whether is possible to get up those mountains, follow the guides here to help you reach those peak summits.

The GPS and maps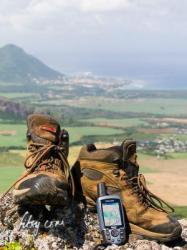 Making use of the routes provided on this site require, ideally, a handheld GPS unit. Modern smart phones are also capable of providing off road guidance using the routes, but you should be aware that battery life of smart phones, though increasingly better, are at best poor.
Those with Garmin GPS units should investigate the following maps:
Garmap Indian Ocean islands. Commercial. Mandatory activation required, and I have had a report of the activation failing and a user unable to use the map he had paid for!
Openstreetmap. Free. Provides reasonable coverage for Mauritius and can help you get to your destination quicker. All the routes on this site have been integrated into the map, making it a little easier to use. Free precompiled maps from openstreetmap data for Garmin GPS devices can be found here.
For those with Android phones:
There are various GPS map applications on the Google Play store which make use of Openstreetmap map data, for example OruxMaps.
Safety!
If you are travelling to the island for the first time, or a single woman, it might be a good idea to find a guide or friend to accompany you. You should be safe on most hikes, but it would be unwise to undertake these routes alone.
The usual hiking advise applies, avoid hiking in wet weather and the weather can change very quickly. Plan for this in advance.
Have adequate water, food, protective clothing, sun protection and mosquito protection.
During the summer months, it can get

pretty

very hot under the sun and you will sweat a lot. Be prepared for this.
Use common sense and don't take unnecessary risks!