Many thanks to Sebastian for providing the description and gps track log for this hiking route which I followed recently.
Deux Mamelles mountain is an isolated peak between the villages of St Pierre and Nouvelle Decouverte. As its name implies, the mountain consists of two peaks, both of which can be climbed relatively easily. Since there are no difficult parts, it is suitable for all ages.
Location
Deux Mamelles mountain is in the centre of the island, not too far from Pieter Both mountain in the district of Moka. Since this is a generally short hike, for the motivated hiker, it might be worth combining both the East and West peaks in the same outing or combining it with Mt Calebasses a little to the East near the village of Nouvelle Decouverte. This description covers the hike to the East Peak. On the map below, you will also find the track to the western peak which you can choose to follow.
The starting point can be reached from the village of St Pierre or the new Motorway from Ebene to Pamplemousses. Leave the motorway at the round-about for St. Pierre and immediately join the untarred road to follow the path to the summit.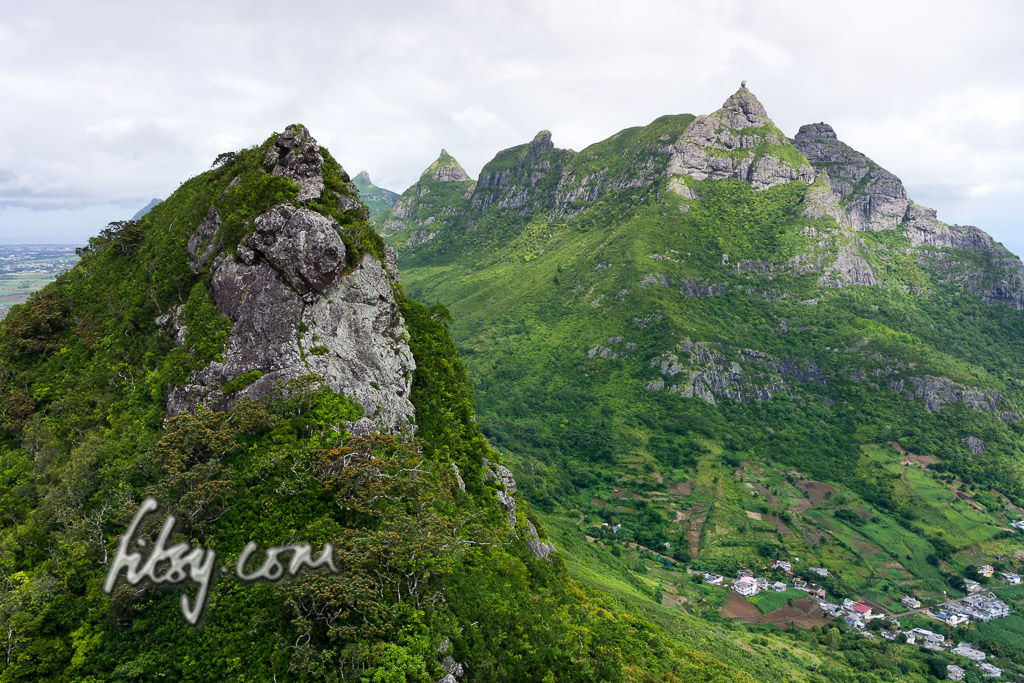 Description
Make your way to the starting point near the junction with the Motorway and leave the tarred road. There is ample parking space near a bridge over a small stream, or with a suitable vehicle, continue to nearer the starting point. Do not leave your vehicle blocking the tracks as agricultural vehicles sometimes need to pass.
The area is used for sugar cane plantation and the initial track is easy to follow.
Follow the untarred road along the side of the new Motorway, over a small stream, and upwards towards the right of the Eastern peak.
You will eventually reach some steps leaving the untarred road up to a small clearing with views over the village of Creve Coeur and Pieter Both mountain.
The start of path in the undergrowth to the summit is not initially obvious, but look past the first (from the right) cluster of trees with funny shaped roots, and you will find the track leading through the tall growing Chinese guava trees.
Follow the track, using the branches where necessary to make your way up
You will come onto a clear grassy area where the path will again continue into the tall growing Chinese guava trees.
When you emerge again, you will be just a few metres away from the summit.
Once on the relatively small summit which is clear of any obstructions, you can enjoy the views all around from the top of the boulder serving as the summit.